Elbow River Employees are Excited to Move Forward Together!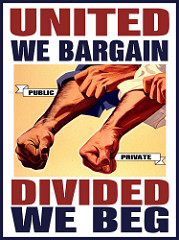 Over the past week, many employees from the casino have been able to read the most recent communication from the union bargaining committee. The update was right to the point addressing the issues that matter to everyone at the casino: their self worth!
Many employees throughout this process have never been employed for a unionized workplace, let alone start a union from scratch. Although, the bargaining committee was just as frustrated, if not more with the speed of the process, there were a fair number of very important items achieved. Employees will now have:
length of service recognized and solidified
representation for any meeting that is disciplinary
access to all surveillance evidence
paid training for new games
ability to dispute and remove unjust discipline
access to equipment that should reduce the strain on your body while at work.
As these are not all of the negotiated items, these are important issues that have been addressed and bargained. Clearly, there are a number of important issues that have not been fully addressed and those include monetary items like paid breaks, wages, benefits, and statutory holidays. Both parties are far away from a settlement on these matters, and they still need to be addressed.
In the most recent update, employees received the last offer from the employer, which was quite frankly a joke. Far away from the industry standard, and not even close to what these experienced employees deserve.
Employees are furious!
Regardless of their decision made during the vote last year, employees are almost unanimous when faced with the employer's last offer. Employees have said to their union bargaining committee "This is not enough!" Regardless of any language barriers, dollars and cents translate, and that translates into respect. Does my employer respect me? What do they think my hard work is worth? I am a good employee, are you going to be a good employer?
The offer from the employer, and these questions from the employees are building solidarity day by day.
What happens next?
Employees will be faced with a tough decision shortly. A mediator report will be provided in time from Ms. Deborah Howes. She will be writing a report on what she believes is a fair deal for both parties. This report will be her recommendations which means they are not binding on either party. Both the employees and the employer would have to agree for it to be a new union contract. If the deal is fair, we say vote yes, if not, and wish for more, vote no. This will be the employee's decision as a collective and will have this contract for 3 years.
Is a strike possible?
A strike is possible if employees wish to vote on a strike. UFCW Local 401 agreed with employees in Edmonton when they believed they deserved more at their workplace and supported their decision to go on strike. Again, it will be entirely up to the employees of Elbow River if they wish to go on strike, not the union's decision. Employees will be receiving all of the information on what happens if a strike is imminent and how the Union will support their decision in the coming weeks.
Employees have been very patient with the process, and it is appreciated. However, the time is coming to make tough decisions and tell the employer that they are strong and are willing to work together.
United we bargain, divided we beg.
Stay strong and stay informed!